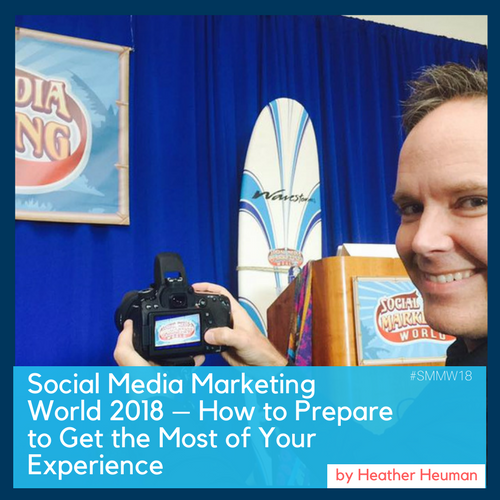 THIS POST DOES HAVE AFFILIATE LINKS
Social Media Marketing World 2018 – How to Prepare to Get the Most of Your Experience
I'm going to be talking to you today about tips for attending #SMMW18, Social Media Marketing World 2018 so you can know how to prepare to get the most of your experience. If you're not attending that conference, you still want to pay attention because the tips and the insights I'm going to be sharing with you, you can apply at any conference or event that you're going to be going to this year or in the future.  However, I have got some ideas and some suggestions that are really related to attending Social Media Marketing World because this is actually going to be my very third year going, and I'm so excited. Need to get your ticket? it isn't too late. Get yours here.
Here are very specific things you need to know as well as ways you can prepare to get the most of your experience at Social Media Marketing World.
Social Media Marketing World is the "Disney World" of Conferences
They have customer service as king and top notch. When you go there, everything that they have done over the last several months has been put in place to make sure that you, as an attendee, are going to be able to have an amazing, really awesome, positive experience. I want you to know that you're going to see kind smiles, you're going to hear fun music, you're going to see people giving you high fives everywhere and all over the place. It's just the culture of the conference. I want you to embrace it, and I want you to know that you're going to be in really great company while you are at Social Media Marketing World in San Diego at the Convention Center.
If you don't know, it's a conference that takes place February 27th to March the 1st. If you're interested and you want to go, you can click here to get your ticket (affiliate link).
We're sure Mike Stelzner, the creator of Social Media Michael World, has the goal for all attendees to have an amazing experience. They want you to have a great experience before you arrive, be wowed while you are there and leave having the SMMW experience leaving you with a wonderful lasting impression. We had the pleasure of having Mike Stelzner on episode 10 of our podcast talking about building his brand and he shared with us then a glimpse of the journey with all he is doing at Social Media Examiner.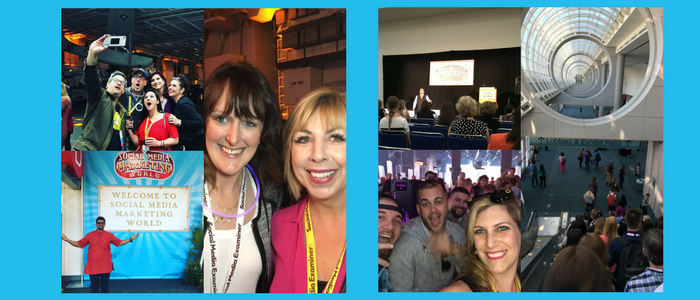 Smile As You Walk About
The second thing I want you guys to do is smile.
Smiling takes very minimal effort, and it is something very simple that conveys a warmth effortlessly to the international crowd that you are going to see.
There are even people attending that are digital nomads like
Nicky Kriel
.
The point of me sharing all of this with you is because there will be people that speak all types of languages as their first language of choice, and when you're walking around and you've got that smile on your face, you're just removing a barrier and you're making it easier for people to connect and engage with you.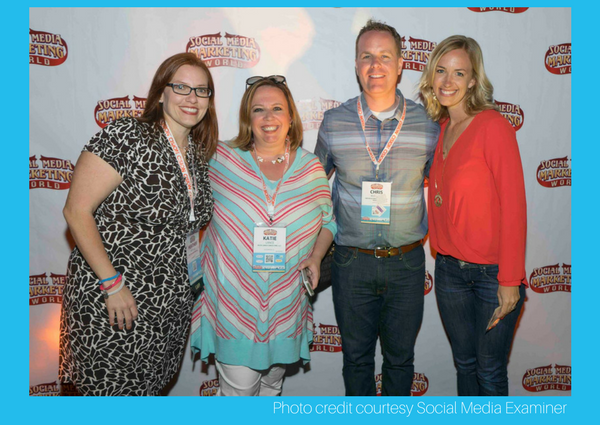 Take Time to Make Eye Contact
This is really a big deal.
For some of us, that comes more natural than others, but just taking the time and the effort to look at people makes a big difference. When you're walking around and you are smiling and you're making eye contact, you are setting the stage that says, "I am approachable."  You can do these really simple things to make it easier for you to be able to make those connections softer and easier.
If you arrive to a session early, rather than just having your head down looking at your phone, consider striking up a conversation with someone sitting near you.
*Please note: This also works for introverts. Trust me, I know.
Wear Comfortable Shoes and Clothes You Love
It all takes place at the San Diego Convention Center. And if you are new to that place it is REALLY  BIG!
You're going to be doing lots of walking. For the most part, I find the the culture at SMMW regarding clothing to be business casual. Lots of people will literally have on jeans and a shirt of choice while many others will have sandals, hats and more.
You will see some in a dress/skirt and others some walking around in their best hat.
Personally, I take black slacks, gray slacks, navy blue slacks, and then I have a different shirt of choice. There are evening activities that are so fun and so amazing. Most of the time, I end up wearing to the evening activity the exact same thing I wore during the day because the day is typically packed full of sessions, lunch and networking.  Before you know it, dinner time is there and you still have on the same clothes with little time to change.
If your plan is "I'm going to wear this in the morning and I'm going to wear this in the evening" be sure and say "I'm gonna skip out at some point to make sure I go back and have time to change".
Clothing Tip: Make sure you really like what you wear during the day because there could be a very high likelihood that you end up having that on all day.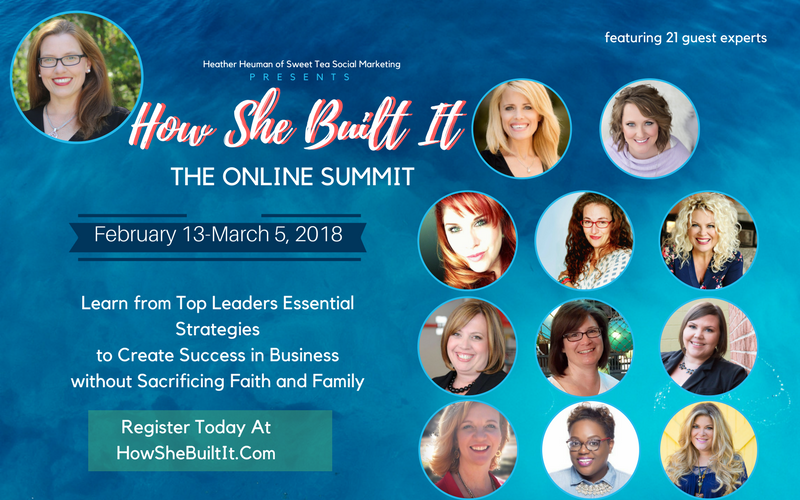 Bring With You a Lightweight Jacket or Sweater
I am cold-natured, but in facilities like the San Diego Convention Center, based on that and my experience in the past years is that the rooms do tend to get on the little bit on the cold side.  When you have an event with thousands of people, a lot of people start saying, "I'm freezing. I'm cold." They make some adjustments to the temperature, and then the next thing you know, you're sitting there and you're like, "Oh, my goodness. I'm so hot." Keep that in mind as you dress, based on your own thermostat on how you like to feel comfortable.
Ask for Selfies
Even if that's not something that you normally do, there are many reasons to consider getting that selfie.
For the most part, many of us all have great phones in our pockets that allow for us to be able to take amazing quality photos on the go. Maybe you're not thinking about this now, but I want you to think this way. If there are people that you deem to be smart, kind, influencers and experts that you will meet face to face, get a photo with them.  Especially if you have established a connection prior to meeting it can feel even more authentic when meeting them face to face. You might write a book a year or two from now, and it could be awesome for you to have said photo in your book of that person that inspired you.  Especially if it is related to the topic of the things that you're going to be writing about.  If you just don't want it to be a selfie, you can always opt for asking someone else nearby to take the photo for you.
The culture at Social Media Marketing World is very friendly and you will see people taking selfies and photos everywhere you turn. You won't feel awkward, but if it feels awkward to you, I just challenge you to get over yourself and just to say, "Hey, wanna take a selfie," or, "Hey, do you mind if I snap a picture?" People do it all the time, and it's totally the norm at Social Media Marketing World.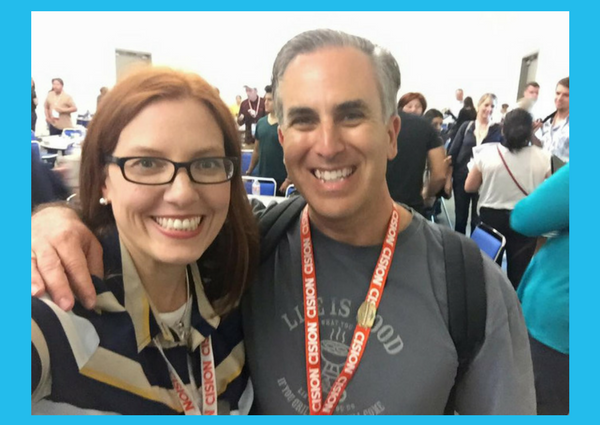 Be Smart and Pre-Network Before You Arrive
The conference doesn't start until February the 27th, but if there are people that you know that are going to be there, make connections prior to arriving.   You can even put out on your normal social media platforms, "Hey, guys, I'm attending Social Media Marketing World. Are you gonna be there, too?" Just start asking those questions because you may be surprised and be able to coordinate meeting up in person. Try to initiate those kinds of conversations now.
Here are 3 Pro Tips if you are Attending on the topic of Pre-Networking! (You get access to these after you register for #SMMW18)
1. JOIN A SLACK GROUP
– 
Slack groups have been organized by SMMW.  In fact, I am one of the coordinators on the Slack team so be sure and come say, "Hi Heather"! The people that are inside of the Slack groups are having great conversations, and there are hundreds of people inside of those Slack channels based on all types of topics.  If you want to engage and just talk to people that are in the pet industry that are going to be there, there's a channel for that. If you want to talk to people that are in tourism that are going to be at the conference, there's a channel for that. Slack is awesome.
2.  JOIN THE LINKEDIN GROUP – LinkedIn is great. LinkedIn is also a place where you can come and engage inside of the LinkedIn group for SMMW attendees. 
3. JOIN THE FACEBOOK EVENT PAGE – By hopping on the Facebook event page, you can indicate that you are going and make connections with people prior to arriving.
All of these things are pre-network opportunities where you can nurture, warm up, and foster those connections, so when you do meet someone new face-to-face, it does not feel as new. Especially if you are an introvert, smart pre-networking can take the pressure off once you get there because you can make some meet-ups with people you meet prior to attending.
Use The #SMMW18 Hashtag
You could go over to Twitter right now, type in the hashtag SMMW18, and you could meet countless number of people that are talking about the conference, that are going to the conference.  You could even create a Twitter list all for people that are using and attending the conference to make engaging in real time at the conference even more powerful. If you like Twitter, that's a really great one, but it's also very powerful on Instagram, as well. 
Pro-Tip – This is also a really fun way to take notes while at the conference. I like to think of them as golden nuggets of great things I learn while at the conference.  These tweets and social media posts pop even more when you include a captivating photo or 10-15 second video of what the post is about. And of course, don't forget the hashtag #SMMW18.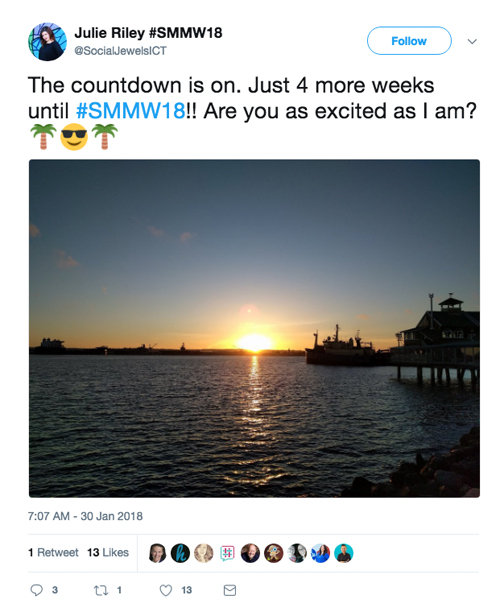 Dine With People You Don't Know
Yes, I get how that may sound REALLY out there for some of you, but, stick with me.
There are great, organized people on the team at Social Media Marketing World and they have put together resources for you to literally be able to go in and say, "I'm looking to do dinner with people on Wednesday night," or, "I wanna network with people on Wednesday night and walk over to the official Social Media Marketing World even that's happening, but I don't really wanna do that alone," so you could specifically sign up and go to that. You don't want to miss out. It's going to be amazing, and it's a great way for you to foster those connections ahead of time.  My very first year attending I signed up for one of these very dinners and found myself sitting next to Heather Myklegard of Get Social Moxie, Nathan Chan of Foundr and Phil Mershon with Social Media Examiner (He also is the Director of Social Media Marketing World)!
Really awesome connections and opportunities can come to be by what may seem like a casual group dinner with new friends.
You just have to be open to new possibilities.
Get One-Minute Videos
This is a super smart thing to do as you meet people that you connect with on a business level.  If you can think of asking great questions, you can get people to share 1 minute of valuable information that you can then later share on social media.  It not only adds great content to your social media pages, but it also allows you to remain in touch with that person and let them know when you share it out on social media.
Pro-Tip: Be sure and follow-up with all of the people that you get one-minute videos from AFTER Social Media Marketing World.  It is a great way to solidify your connection with them and take the relationship to a deeper, more memorable level.
Start Conversations with New People
Do not sit or hang out with the same two to three to four people the entire event. If you do, you're going to be missing out on amazing connections you could have had otherwise. I know a lot of people at the conference. I meet more people every year, and it's got this family reunion vibe, but I intentionally don't schedule every breakfast, lunch, and dinner with the same 15 people that I know really well because I want to have opportunities to meet new people and I want to have opportunities for new, cool experiences to happen. Case in point, I was a volunteer maybe two years ago, and while I was there, I was doing something, I walked by to go do something and Kim Garst was going to be one of the main keynote speakers on the stage. She literally called me over to the stage, where she was getting a soundcheck, and she said, "Hey, Heather, I've got an extra seat with me on the front row. Would you like to sit there with me?" I'll let you take a look at this next photo and let you guess what my answer was that day to Kim.
There are literally thousands of people at SMMW and there will be even more this year with a record breaking attendees.  Make yourself available, being in new situations, maybe even being by yourself in different times, and opportunities present themselves like that, that are super cool and fun.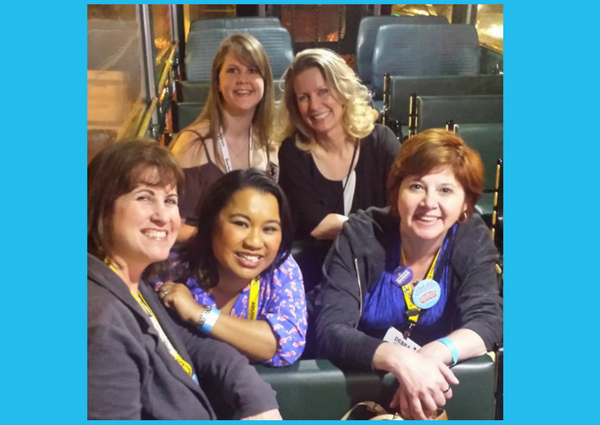 Approach the Speakers (They're Human, Like You)
Please walk up to the speakers. Don't make the speakers feel that you can't come talk to them. I'm telling you the speakers are approachable. They would welcome you to come up and say, "I really enjoyed this session," or, "I've got your session in my book marked for Friday and I'm looking forward to coming to it," or, "Hey, I would love to ask you this one question. Do you mind if I ask you that?" Just treat them like people. They are, and you'd be really surprised to know that sometimes at Social Media Marketing World there may be speakers that are taking the stage for the very first time at this particular conference so your reaching out could very well make their day! 
As one that speaks across stages myself in the USA, I know that each time I am in a new city and people come up to me in the hallway or before or after a session, I love the opportunity to make those connections.
Pro-Tip: Have maybe 3 solid go-to questions in mind for meeting both speakers and knew people that will take the stress off of thinking 'on the fly' if that makes you a little more nervous. Trust me, you will have countless opportunities to meet new people and when you can lead in with great questions that give people an opportunity to talk about themselves, you'll see how easy this networking thing is face to face even if that isn't your normal way to engage at conference. Make yourself. You won't regret it!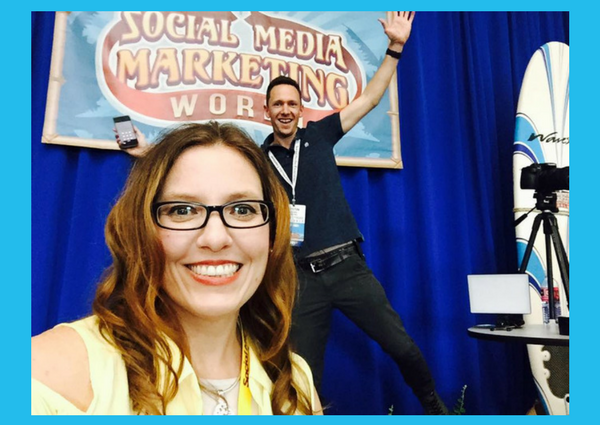 Push Yourself to Go Out of Your Comfort Zone
I am, believe it or not, by nature, an introvert. My happy place is quiet.
It's working in silence.  However, I do enjoy being around people, mostly in smaller settings. 
That isn't the atmosphere at SMMW. In fact it feels really big and sometimes a little overwhelming. 
But what I want you to know is I went to a conference this past September where I was going to be speaking in Texas, and I didn't know really hardly anyone.
Has that ever been you too?  It was a very different experience than when I had attended Social Media Marking World where I feel super comfortable and I know a lot of people.
But I forced myself, at the conference in Texas to make eye contact, to smile, to walk up to people I had never seen before and just say something simple like this, "Hey, I'm Heather. Tell me a little bit about what you do?"
In that atmosphere, where people are all coming in from all over the places, it's okay, it's normal, it's natural, and it's going to facilitate amazing opportunities.
Can I just tell you that by me pushing myself and making myself get out of my comfort zone and doing that, I, to this day, have had the opportunity to be a guest on podcasts, I've had the opportunities to have discovery calls for client work and I got to go to lunch for two hours with a wonderful speaker at the conference because of putting myself out there.
Did I feel a little dorky?

Yeah, just a little honestly.  But I sucked it up and got over myself. 
I'd much prefer to feel a little out of my element than to go home having missed out on connections I otherwise never may have had.
Another thing that motivates me, as an introvert or an extrovert, is that when I go to conferences, I know I paid a lot of money to get there.
I paid for lodging, food, transportation and left my family for a few days so I want to make the experience worth it bceause it really is a business investment of not only my money but also of my time.
That motivates me to go beyond my comfort zone, even if it's something I don't want to do and I hope that you have found this to be helpful on ways that you also can maximize attending Social Media Marketing World.
Conclusion
I challenge you guys to go and make sure that you're making new relationships and that you attend great sessions that you love.
You're going to be able to get, most likely, depending on the level of ticket you purchased, access to recordings of all the sessions later, so those conversations with the real people, face-to-face, shaking hands, taking selfies, is priceless.  The networking that you can do at this conference or any other conference you attend really can be a game changer in your business in a very significant way.
I hope that you have found what I've shared with you today to be helpful, and I would love for you guys to give me your feedback.
Are you going to be going to Social Media Marketing World for the first time? Are you a third-time attendee like myself? Have you never been? Has this made you curious about maybe wondering if you should go? Tell me in the comments below!
If you can't attend in San Diego, they actually also have a virtual ticket that allows you to have access to all the content from the sessions!
Click here
to access the varied ways that you can grow and develop from Social Media Marketing World 2018.
Need more results with Facebook?
DOWNLOAD NOW our Smart Social Media CHECKLIST for Facebook.
We're here to help you step by step get clarity and results on Facebook for your business.