Podcast Episode #11: How to Get Your Business Legal and Thriving / Insights from Attorney Danielle Liss of Hashtag Legal
8-01-2017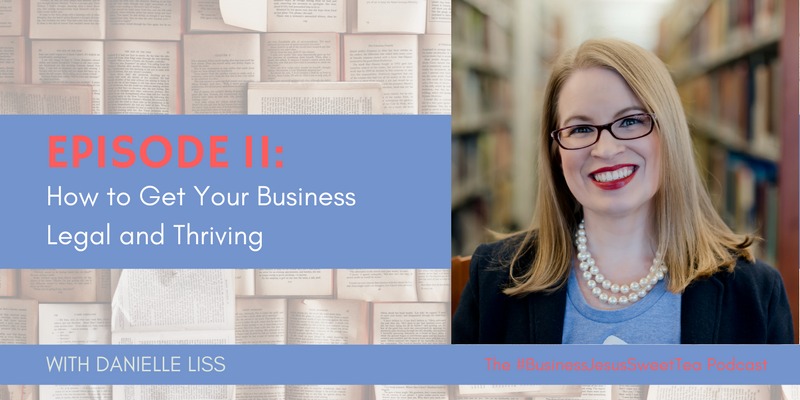 Does the legal aspect of your business seem daunting, overwhelming or just downright scary? We promise you're not alone and we are SO thankful for lawyers like Danielle Liss.
It's always in your best interest to keep you and your business legal and in good standing to keep yourself covered.
In this episode, Danielle shares with us about getting and keeping your business legal.
Danielle Liss is a lawyer at Hashtag Legal. Her practice focuses on small business owners, entrepreneurs and influencers. Danielle is the former Chief Marketing Officer and General Counsel of an influencer network and, prior to that, worked in private practice. She's originally a Jersey Girl, but now lives in Las Vegas with her family.
A quick glimpse from my interview with Danielle Liss:
3 important pieces to have on your website are: terms of service, privacy policy & a disclaimer.
Click To Tweet
Contracts are essential. Always get it in writing!
Click To Tweet
If you are on Twitter, let Danielle know that you enjoyed her interview!
Offer from Danielle Liss:
We offer 30 minute strategy sessions where people can talk with one of us and ask questions to create a legal strategy for their business. This is regularly $249, but we'll offer it for $199 to anyone who mentions that they heard us on the show. This can be booked by contacting us through our website (http://hashtag-legal.com)
Connect with Danielle Liss:
Website: http://hashtag-legal.com
Twitter: http://twitter.com/hashtaglegalllc
Facebook: http://facebook,com/hashtaglegallc
Other Ways to enjoy this podcast

Need more results with Facebook?
DOWNLOAD NOW our Smart Social Media CHECKLIST for Facebook.
We're here to help you step by step get clarity and results on Facebook for your business.