Podcast Episode #33: How Webinars can Help Grow Your E-Mail List with Katie Lance
01-02-2018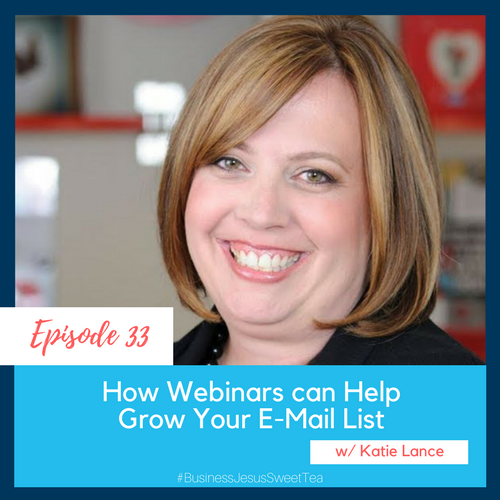 Why webinars? Instead of a video people watch in their spare time, they are choosing to attend an event online, it indicates they are being intentional to learn and/or grow.
In this episode, Katie shares with us key elements to have in your webinar including best practices and things to avoid doing to grow your email list.
Katie Lance is the Founder of Katie Lance Consulting. Katie specializes in working with companies to help develop their social media and content strategy. Her signature group social media program, the #GetSocialSmart Academy has received accolades from industry peers across the globe. Katie has consulted for companies such as RE/MAX International, DocuSign, Realtor.com, Mason McDuffie Mortgage and many others. Katie is also a frequent keynote
speaker, a contributor to The Huffington Post and formerly was the Chief Strategist for Inman News.

Offer from Katie:
Ready to jump-start your social media strategy? Download Katie's free content grid at http://katielance.com/contentgrid or check out her new best-selling book on Amazon: http://getsocialsmartbook.com.
A quick glimpse from my Interview with Katie:
The magic happens 24 hours before the webinar. @katielance @heatherheuman #BusinessJesusSweetTea
Click To Tweet
If you are on Twitter, let Katie know that you enjoyed her episode!
Connect with Katie:
Other Ways to enjoy this podcast

Need more results with Facebook?
DOWNLOAD NOW our Smart Social Media CHECKLIST for Facebook.
We're here to help you step by step get clarity and results on Facebook for your business.