Podcast Episode #32: 6 Things I Learned in Business the Hard Way
12-26-2017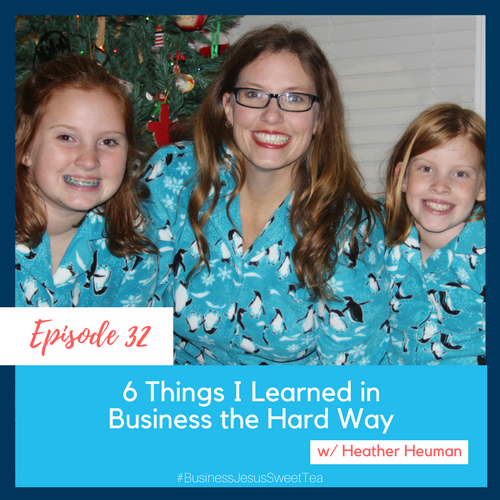 Somethings we life we just have to learn the hard way to really get the lesson.
Here are 6 things I had to learn the hard way in my journey of being a business owner….
Know your gifts and talents and stay in your lane
Trust your gut
Focus on your BIG VISION
Stop the limiting beliefs and mindsets
Surround yourself with smart people
Be yourself.
Tune in to this week's episode as I expound upon these 6 things.

A quick glimpse from my episode:
'Live like no one else.' #BusinessJesusSweetTea @heatherheuman
Click To Tweet
If you are on Twitter, let me know that you enjoyed my episode!
Connect with Me:
Website: www.sweetteasocialmarketing.com
Twitter: http://twitter.com/heatherheuman
Facebook: http://facebook,com/sweetteasocialmarketing
Instagram: http://instagram.com/heatherheuman
Other Ways to enjoy this podcast

Need more results with Facebook?
DOWNLOAD NOW our Smart Social Media CHECKLIST for Facebook.
We're here to help you step by step get clarity and results on Facebook for your business.