Podcast Episode #31: How Leaning into Your Calling Creates Success with Angela Herrington
12-19-2017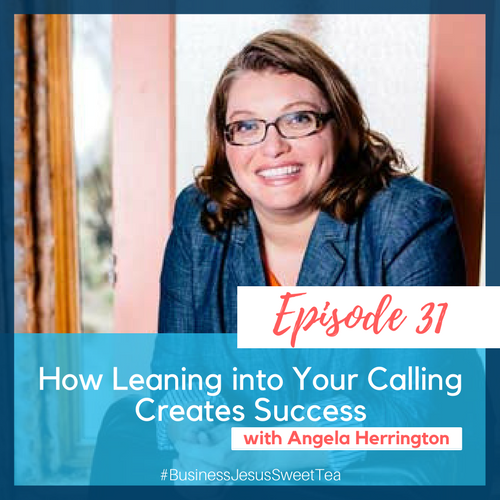 In this episode of the Business, Jesus, Sweet Tea podcast, we are joined by Angela Herrington. She shares on leaning into your calling to help you create success in your business and how your productivity and results will increase when you're doing what God has gifted you in.
Angela J Herrington is founder of Broken Beautiful BOLD online women's ministry and Life and Digital Strategy Coach for Christian Entrepreneurs. She holds a BA from Indiana Wesleyan and a Masters in Leadership from Wesley Seminary. Her graduate research project focused on leadership development and opportunities for Gen X women in the US church.
A quick glimpse from my interview with Angela:
'Make sure you are measuring your success by the things that matter.' @angherrington #BusinessJesusSweetTea
Click To Tweet
'God doesn't give you a calling based on where you are right now - but where He's going to take you.' @angherrington
Click To Tweet
Free E-Book:
22 Ways To Know When God Is Calling You To Take BOLD Action
This 14 page e-book will aid you in discerning when God says it's is time to be still and when it's time to MOVE!
Connect with Angela
Facebook: https://www.facebook.com/AngelaJHerrington/
Twitter: https://twitter.com/AngHerrington
Website: https://angelajherrington.com/
Other Ways to enjoy this podcast

Need more results with Facebook?
DOWNLOAD NOW our Smart Social Media CHECKLIST for Facebook.
We're here to help you step by step get clarity and results on Facebook for your business.