Podcast Episode #28: A Successful Course Launch (The Truth you Need to Hear) with Abbey Ashley
11-28-2017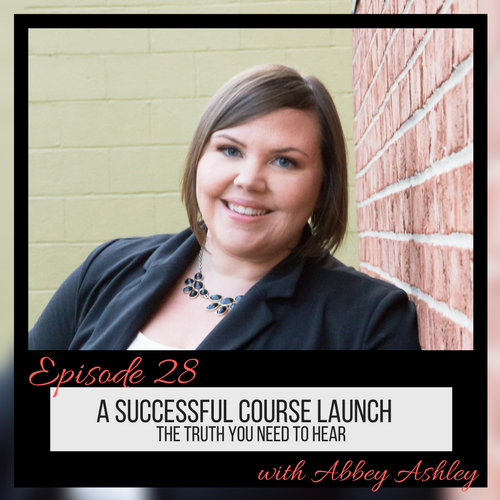 Have you ever launched an online course or have thought about it but were intimidated by the process?
In this episode, Abbey Ashley shares with us the honest truth of her journey in course launching and gives practical tips on what (and what not!) to do.
Abbey Ashley is the Founder of The Virtual Savvy. She helps aspiring virtual assistants launch and grow their own at-home business from scratch. Abbey started her own virtual assistant business in 2012 and was able to double the salary from her full-time corporate job, working only 20 hours a week… in just 30 days! It's now her passion to help others start their own VA business so they can taste the freedom and flexibility of entrepreneurship.
A quick glimpse from my interview with Abbey:
'If you are going to launch a course you need to have an audience to launch it to' Abbey Ashley
Click To Tweet
'Be sure and validate the idea for your course BEFORE you create it. Trust me.' Abbey Ashley #BusinessJesusSweetTea
Click To Tweet
Free Checklist:
THE VIRTUAL ASSISTANT LAUNCH CHECKLIST AND STARTER KIT
Connect with Abbey
Website: www.thevirtualsavvy.com
Facebook: www.facebook.com/thevirtualsavvy
Pinterest: www.pinterest.com/thevirtualsavvy
Other Ways to enjoy this podcast

Need more results with Facebook?
DOWNLOAD NOW our Smart Social Media CHECKLIST for Facebook.
We're here to help you step by step get clarity and results on Facebook for your business.