Podcast Episode #27: How Networking Can Boldly Change Your Business
11-21-2017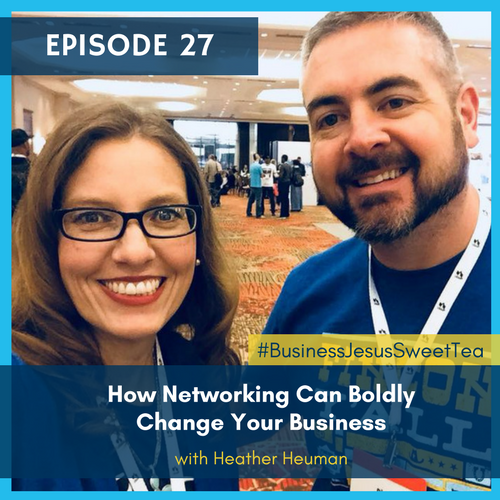 Networking can be intimidating, especially for us introverts. But don't let that stop you from utilizing this POWERFUL in your business. This podcast and the guests I've been able to have on here are proof of the power of being bold in your networking.
Heather is the CEO/Founder of Sweet Tea Social Marketing, Elizabethtown Family and the founder of Sweet Tea Social Marketing Academy. She is a social media speaker, strategist and trainer that specializes in helping Christian business owners and entrepreneurs discover how to grow in today's noisy social marketplace. Heather has corporate and locally-based client experience and enjoyed speaking as a track leader Social Media Marketing World 2017. She's a proud wife and mother of three kiddos under 12.
Previous episodes mentioned:
Michael Stelzner : Episode 10
Steph Nissen : Episode 12
Mark Schaefer : Episode 13
A quick glimpse from my episode:
'What are you doing to stand out from the crowd?' @heatherheuman #BusinessJesusSweetTea
Click To Tweet
'There is power in both online & in-person marketing.' @heatherheuman #BusinessJesusSweetTea
Click To Tweet
If you are on Twitter, let me know that you enjoyed my interview!
Connect with Me
Website: www.sweetteasocialmarketing.com
Twitter: http://twitter.com/heatherheuman
Facebook: http://facebook,com/sweetteasocialmarketing
Instagram: http://instagram.com/heatherheuman
Other Ways to enjoy this podcast

Need more results with Facebook?
DOWNLOAD NOW our Smart Social Media CHECKLIST for Facebook.
We're here to help you step by step get clarity and results on Facebook for your business.