Podcast Episode #26: How Blogging Can Increase Your Income in Business
11-14-2017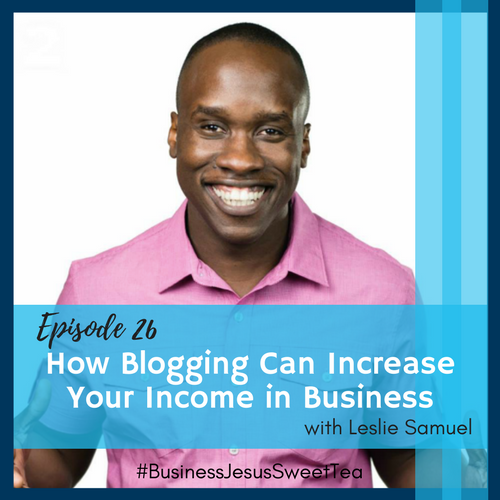 Blogging can be a great way of getting your voice heard in the digital age we live in. But have you wondered how to monetize your blog?
In this episode, Leslie Samuel shares with us practical and actionable tips on how to turn your blogging passion into a source of income.
Leslie Samuel is a former university professor, the creator of the Become A Blogger and host of the Learning with Leslie Podcast. He has a passion for education and has taken on the mission of "Changing The World One Blog At A Time".
He also serves as the head of training for the Social Media Marketing Society by Social Media Examiner – the world's largest social media marketing resource.
His message is simple – Create Content, Inspire Others and Change The World!
This episode was recorded at Fincon2017 where Leslie and I were both attending and it was such a blessing to have this great set-up by the amazing team at Fincon!
A quick glimpse from my interview with Leslie:
'Have people leave your webinars with enough actionable content that they can solve their problem.' @lesliesamuel
Click To Tweet
'Make the decisions God is asking you to make, even when it doesn't make sense.' @lesliesamuel #BusinessJesusSweetTea
Click To Tweet
If you are on Twitter, let Leslie know that you enjoyed his interview!
Connect with Leslie:
Website: www.becomeablogger.com
Facebook: Become a Blogger with Leslie Samuel
Twitter: https://twitter.com/lesliesamuel
LinkedIn: https://www.linkedin.com/in/lesliesamuel/
Other Ways to enjoy this podcast

Need more results with Facebook?
DOWNLOAD NOW our Smart Social Media CHECKLIST for Facebook.
We're here to help you step by step get clarity and results on Facebook for your business.