Podcast Episode #25: How to Use Your Blog to Grow Your Business with Mike Allton
11-07-2017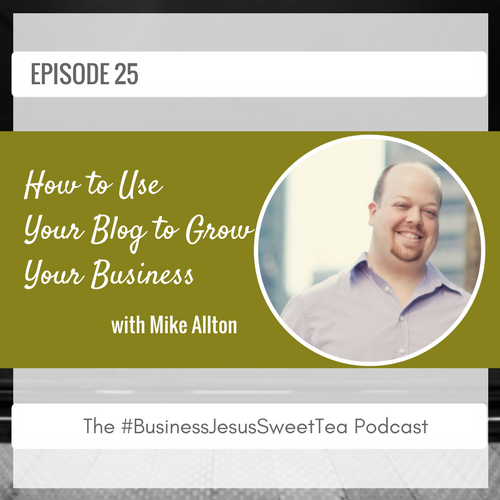 In this digital day and age, blogging is a great way to establish yourself as an expert in your field or market.
In this episode, Mike shares with us practical tips and services that will help you build your business with your blog.
Mike is a Content Marketing Practitioner, award-winning Blogger and Author in St. Louis, and the Chief Marketing Officer at SiteSell. He has been working with websites and the Internet since the early '90's, and is active on all of the major social networks. Mike teaches a holistic approach to content marketing that leverages blog content, social media and SEO to drive traffic, generate leads, and convert those leads into sales.
A quick glimpse from my interview with Mike:
'Look for services that get your audience content out to your audience.' @mike_allton #BusinessJesusSweetTea
Click To Tweet
'Make smart shares and comments on influencers in your market.' @mike_allton @heatherheuman #BusinessJesusSweetTea
Click To Tweet
If you are on Twitter, let Mike know that you enjoyed his interview!
Free E-book from Mike:
Visit www.thesocialmediahat.com/hootsuite-book to receive a complimentary copy of "The Unofficial Book On Hootsuite" which helps you not only understand how to use every aspect of the social media management tool, but also instill best practices when it comes to social media activity overall.
Connect with Mike:
Facebook: https://www.facebook.com/allton
Twitter: https://twitter.com/Mike_Allton
Linkedin: https://www.linkedin.com/in/mikeallton/
Instagram: https://www.instagram.com/mallton/
Website: www.TheSocialMediaHat.com
Other Ways to enjoy this podcast

Need more results with Facebook?
DOWNLOAD NOW our Smart Social Media CHECKLIST for Facebook.
We're here to help you step by step get clarity and results on Facebook for your business.