Podcast Episode #12: Data and Analytics: How to Let it Guide the Decisions you Make in your Business
8-08-2017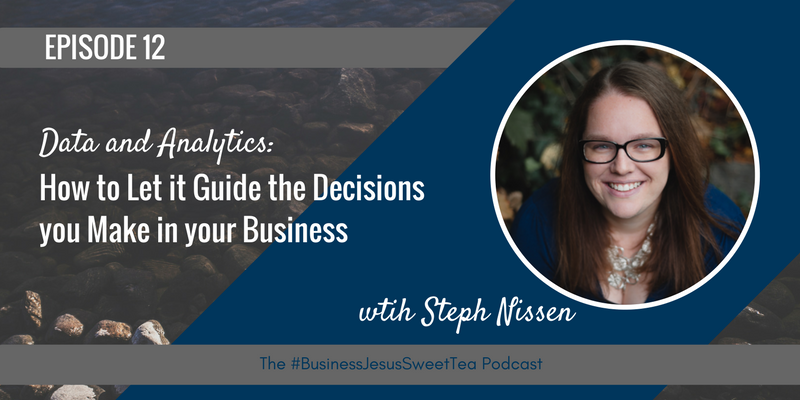 Ever wanted to make more money in your business? Yeah, that's what we thought!
Understanding your data and analytics for your website, email list, social media, etc. can be the very thing that takes your business to the next level as far as revenue.
In this episode, Steph shares all about data and analytics and how to use them to help you in your business.
Steph Nissen is the Director of Digital at Atomic Revenue managing the company's implementation programs and overseeing all aspects of digital marketing including social media, web development, search engine optimization, content marketing, and graphic design. Steph has worked in corporate America as well as worked as a start-up entrepreneur serving clients internationally.
Steph is a sought after expert speaker on social media who's been named one of the Top 30 Women in Social Media (2015) and recently a Top 50 Influencer in the areas of Facebook, Twitter, Live Streaming, Snapchat, and Artificial Intelligence for Social Media Marketing World (2017). Steph has a BS degree in Web Development and a degree in Visual Communication.
Steph is a proud Mom of two, London (3) and Jace (1). She spends her free time binge watching Netflix shows, taking her kids to the park, and playing board games with her family.
A quick glimpse from my interview with Steph Nissen:
'Use data in your marketing efforts to help you make next step decisions. @stephnissen_'
Click To Tweet
'You must have a strategy in place to support your business goals to have the success you want. @stephnissen_'
Click To Tweet
If you are on Twitter, let Steph know that you enjoyed her interview!
Connect with Steph:
Website: www.atomicrevenue.com
Facebook.com: www.facebook.com/atomicrevenue
Twitter: www.twitter.com/StephNissen_ / www.twitter.com/AtomicResults
Instagram: www.instagram.com/StephNissen_
LinkedIn: www.linkedIn.com/in/stephanienissen
Other Ways to enjoy this podcast

Need more results with Facebook?
DOWNLOAD NOW our Smart Social Media CHECKLIST for Facebook.
We're here to help you step by step get clarity and results on Facebook for your business.